Our passion is working and playing in the outdoors. The animals that we love transport us to remote places away from congestion. You will find us deep in the Wilderness exploring new places, fishing in glacial lakes or just plain relaxing. Our love for the outdoors is not constrained by geography. We enjoy all of this planet that God created. When we're not high in the Colorado Rocky Mountains you might find us deep sea fishing, scuba diving, or sailing somewhere on the planet's vast oceans. During the winter you will probably find us skiing or snowboarding at one of the nearby resorts or in the backcountry.
Our second love is sharing this lifestyle with each of you, our guests. There is nothing more rewarding than seeing that ah-ha moment when someone crests a ridge and looks beyond for the first time. Teaching the kids to light a fire or bait a hook never ceases to bring back memories of our own childhoods.
Tom often says that he was riding horses before he was born, his mom was not one to give something up just because of a little thing called pregnancy. Except for a short period when Tom was in school he has spent his entire life around horses and livestock. As a pre-teen he exercised barrel racing horses and dreamt of being a jockey. After graduate school he raced sailboats professionally for awhile and then found himself once again in the mountains and in the cattle business.
Keiley's passion is horses! She has a back round in showing horsesKeiley and has competed in three day Eventing and hunter jumper events with her trusty mare Peaka.
Anita was born in Indiana and moved to Colorado in 1981. She worked on a ranch in the Roaring Fork valley caring for cattle and sheep while training horses and mules. Hunting bear and mountain lion while on the ranch got her hooked on big game hunting and packing. She also guided elk and deer hunting in the fall. After leaving the ranch she helped many an outfitter in the Roaring Forks Valley come hunting season and guided point to point packtrips during the summer.
Ben joined us in 2011 becuase of his passion for the outdoors and the mountain lifestyle. Always busy doing something, almost fearful of being idol, his nick name is Energizer Bunny. He enjoys introducing guests to the world of horses. He is awesome with young children and has recently become a father of a beautiful baby girl with his wife Leah.
Being raised on a dairy farm his love for animals developed when he was a young boy. He started ridding horses when he was 8. and hunting shortly thereafter. He developed an outdoor lifestyle as a young boy and continues to truly enjoy being under the clear blue sky of the Colorado Rockies.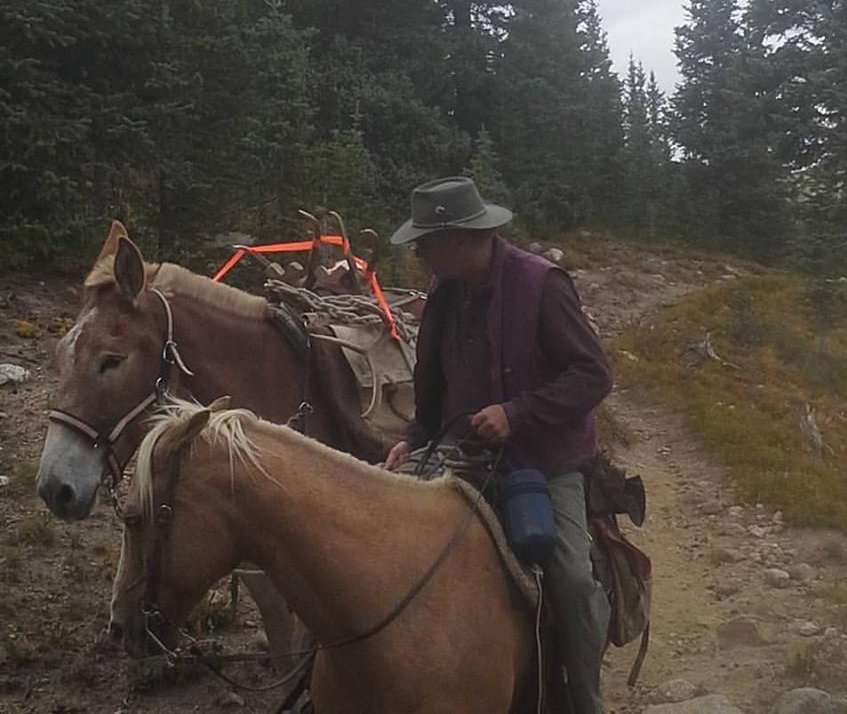 Charlie grew up on riding horsescharlie and looking after livestock on a ranch near Alamosa Colorado. He joined us during archery season in 2015 and quickly become an essential member of our packing team. His love for the mountains quickly rejuvenated a tired summer crew and we all performed better for it. During the winter he is the Adult Group Lesson Manager at Lionshead on Vail Mountain.
Luke is a 5th generation Leadville native who loves the outdoors. He loves doing anything that involves being outside; whether it be work or play. This mind set has served Luke well as he has become one of our top Packers and Guides. He is a very social, outgoing individual that truly enjoys being around people. He loves being around animals and is looking foward to sharing his skill set with his guests.