We offer a complete range of hunting services including fully guided hunts, premium drop camps, drop camps, game retrieval and pack services. It is our goal to assist you with your dream hunt. You won't find this extensive of offerings package anywhere else. If you don't see exactly what you are looking for let us know so that we can tailor a hunt for you. We take your safety seriously, in so doing we ask that you check in via text or phone every 48 hours. If you are in an area outside of cell coverage we will provide a satellite phone. If we don't here from you within the 48 hour window some one will ride in to check on you the next morning. They will be bringing an extra horse and two pack animals in order to retrieve any game that has been harvested. None of our products or services mix people from different groups. The camp you go to is strictly for your party.
Guided Hunts offer you the best chance of success! Why not hunt with someone who spends the entire summer in the mountains tracking the game. Each guided hunt has a two hunter to one guide ratio, one on one ratios are available for an additional charge on request. In addition to your guide each full service guided camp also comes with a camp cook to prepare your meals and ensure that your needs are satisfied while you are in camp. When you crawl out of your tent at zero dark thirty he will hand you a steaming mug of coffee. If the weather is good during archer season the cook may move meals outside. Guided summer pack trips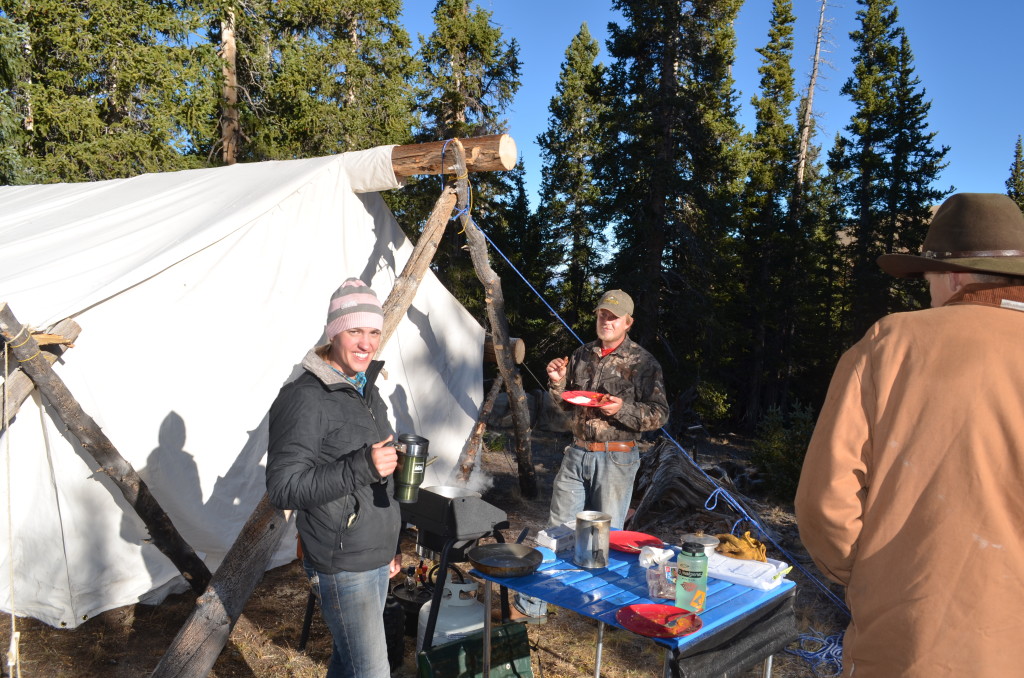 The price for a Premium Guided Hunting Camp is an all inclusive $4,800 per hunter for two hunters and $4,400 per hunter for 4 hunters. When booking prior to the calendar year of the hunt a 25% deposit is due at time of booking, the deposit balance of 25% is due January 31 the year of the hunt. The final 50% is payable 10 days before the hunt. When booking during the calendar year of the hunt a 50% deposit is due a time of booking, the balance is due 10 days before the hunt.
Camps consist of separate cooking and sleeping tents. Except for a couple of locations where flat space is scarce there will be one wall tent for two hunters. Each bedroom tent is furnished with cots, pads, table, lantern and heat. Your drop camp host and cook will ensure you don't run out of firewood. All you need to bring is your personal gear.
We offer two different types of drop camps. When your packers ride you into camp everything is set up and in place. The camp is equipped with separate sleeping and cooking tents. Depending on the campsite and space limitations there should be one 12 x 14 wall tent for each two hunters. (Some sites don't have enough flat ground to set more than a couple of tents.) We also offer pack hunting services in case if you are travelling far with your own gear and other camp supplies.
The cook tent will have cook stoves, pots and pans, silverware, plates and cups. Separate food preparation and eating stations are set up. The tent has a lantern and wood burning stove. (You should bring your own deck of cards to relax with.) A nearby tree will have a rope waiting to hang your perishables, (not your hunting buddy, shame on you for thinking that!) all you need to do is hoist it up before leaving camp.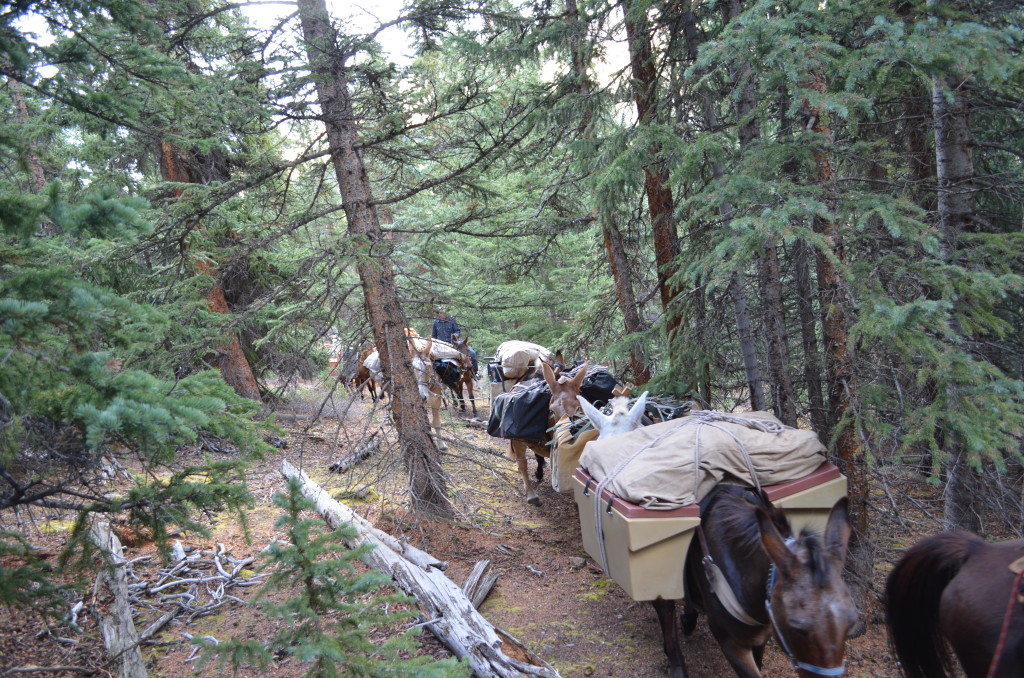 drop camp hunt services Bedroom tents will have cots, pads, table, and a lantern and. In addition each tent will have a floor, rain fly, and heating stove. There will be a sufficient amount of firewood cut, dried and ready to burn for normal camp usage. Additional fire wood is the hunter's responsibility.
The second type of drop camp is the Premium drop camp. In addition to all the hardware provided the Premium Drop Camp comes with a camp cook/wrangler, horses and meals. Food will be prepared and meals will be provided based on your menu decisions. The cook/caretaker will maintain the fresh water supply, keep you well fed with both meals and snacks. He will also look after any livestock left at camp and maintain the firewood and fresh water supplies. All you have to do is hunt!
The basic drop camp is available for $2,200 per hunter for a group of two and $2,000 per hunter for a group of four. When booking prior to the calendar year of the hunt a 25% deposit is due at time of booking, 25% is due January 31 the year of the hunt, with the balance payable 10 days before the hunt. When booking during the calendar year of the hunt a 50% deposit is due at time of booking, the balance is due 10 days before the hunt,
Clicking here will open a sample drop camp agreement in a new window.
For those hunters with their own gear but traveling to far to bring livestock we can pack in your entire camp and supplies. We have professional wilderness guides and so all you have to do is let us know when and where you will be headquartered, we will get you and your gear there.Pack Services Colorado
We will meet at the stables, organize and weigh your gear, fit you and your party to saddle mounts before leaving for the appropriate trailhead and trip in. The cost is $450 for the trip and $110 for each animal used, riding or packing. Our mules can carry up to 150 pounds each. In 2020 we packed over 45,000 pounds of gear into and out of the forest for our clients.
We will also pack out your harvested and quartered game for $525. If you are using one of our other service we will bring your game out for $425. (Please note that drop camp and guided hunts include pack out of all game harvested.) A $900 dollar deposit is due at time of booking. The balance is due after the loads have been built and weighed.
After wandering all day did you end up too far from the truck? Don't be afraid to take the shot! We will come get it out for your.elk retrieval
With our game retrieval service we will come get your animal anywhere in our permit area. A guide will bring two mules to carry the elk out and a horse for the shooter. The guide will meet you at the trail head or along the trail, put you on a horse and then follow you to the downed animal. He will bring it to your truck in one trip saving you the repeated trips with a heavy load on your back.
The price is $525 or $425 if you used our pack service to get your camp set. Game Retrieval is included in your guided hunt or drop camp hunt at no charge.